ACCESS Model
The ACCESS mandate emanates from the analysis that the poor continue to teeter on the brink of subsistence due to lack of access to resources, services, information, finance, markets and entitlements. To help in overcoming these impediments, ACCESS pursues a three-pronged strategy that involves:
Engaging with primary producers and organizing them into formal community based institutions. Typically ACCESS organizes them into Producer Companies (So far, ACCESS has promoted 117 Producer Companies in five of its nine programme states). Organizing primary producers also helps in economies of scale for procurement of raw material, sharing infrastructure and common facilities, in disseminating training and other interventions, marketing, and broadly helps in empowering communities.
Aggregation of small surpluses of primary producers into marketable lots helps them better negotiate in the marketplace and also provides them with incentives to seek higher value markets.
ACCESS also facilitates small producers in their effective integration and participation in value chains. ACCESS builds their capacities to deal with input suppliers, buyers, and technical service providers as also with the government (for their entitlements), among others.
An important ACCESS strategy is to build "inclusive value chains" through which efforts are made to help highest possible benefits of the value chain accrue at the level of production. This is attempted though volume and value strategies; helping in raising productivity and also undertaking certain value addition on site through the community itself.
---
Seeking Sustainable Impact ACCESS sub-sector Approach
The adoption of a sub-sector approach by ACCESS is a strategic option, which allows for a focus on specific subsectors and helps in strengthening the ecosystem within which livelihoods within a sub-sector are able to transition from a comparative to a competitive advantage and bring economic gains to the region. A sub-sector approach allows for interventions at all levels within the value-chain, from production to policy, for durable outcomes; it provides economies of scale; enables aggregation of resources, helps in organizing demand for inputs and capital; facilitates the establishment of common infrastructure and facilities and opens up an interface with all actors within the value chain. Specific sub-sectors thrive in clusters, and hence also facilitate in bringing communities together and organize them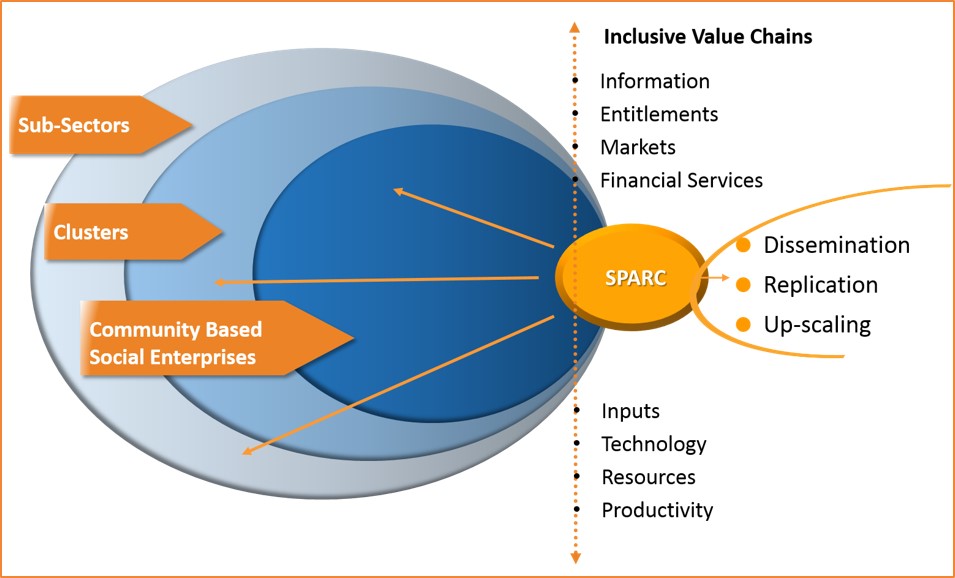 ---
SPARC (Small Producers Assistance Resource Centre)
Most ACCESS programmes are implemented through a SPARC, which essentially is clutch of dedicated professionals instituted in the programme location. Relating to the programme, this team of professionals is identified around complementing competencies to provide holistic and integrated services to the primary producers. In addition to providing technical service, SPARC leverages financial and other business services from external agencies in the market. SPARC, thus acts as a gateway agency for the primary producers to access resources, finance, input supplies, technology, information, markets and entitlements.
It is expected that within a short timeframe of three years, the SPARC is well established and is delivering high quality services that help the primary producers to significantly strengthen their livelihoods and make incremental gains. By the time, there is an expectation from most programmes that due to the perceived or realized value that the producers receive from the SPARC and due to benefits from the programmes, post the programme tenure, they are willing to engage with the SPARCS on a cost recovery basis.
Through SPARCs, ACCESS has been able to reach out and strengthen the livelihoods of over 280,000 small producers, establish 119 producer companies and have successfully linked them with input suppliers, finance and markets, as also entitlements.