Approach to Outcome based Impact
An important ACCESS strategy is to collaborate with policymakers, regulators, private sector, donors and bi/multilateral to impact inclusive finance through the use of innovative solutions and people centric approach. Building a strong foundation of developing inclusive value chains and drive market-led approaches, ACCESS has worked to improve livelihoods and MSMEs across different markets and commodities.
SPARC (Small Producers Assistance Resource Centre) – Experimental Resource Center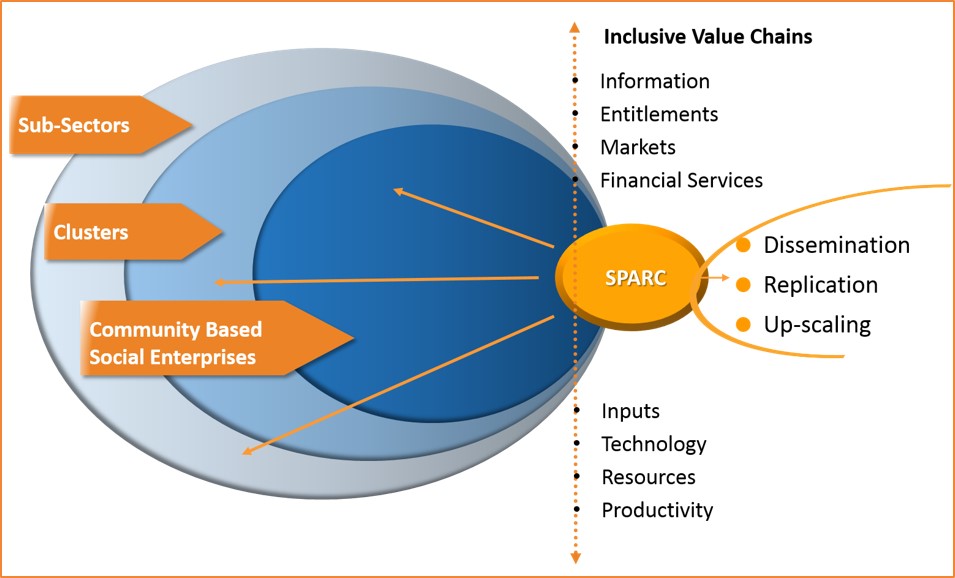 SPARC is a highly specialised hyper-local resource center established in several geographies to deliver on inclusive finance and development agenda of ACCESS. An innovative and experimental initiative, SPARC provides technical assistance, market based solutions, integrated services and data to MSMEs and producer groups. The Resource Center is a thriving ecosystem of knowledge exchange, lessons shared and adopting best practices to improve the lives of low and moderate income population.
Through SPARCs, ACCESS has reached out and strengthen livelihoods of over 280,000 micro enterprises, established 119 producer companies and have successfully linked them with input suppliers, finance and markets, as also entitlements.